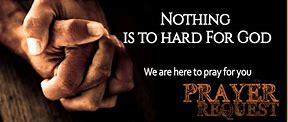 Lynn Garden Baptist Church is a praying church and we would be honored to pray for you. If you have a prayer request, you can submit it on our prayer wall by clicking the button below. Spam will be blocked or removed. On the prayer request form that is displayed, note that there are options that allow you to choose who sees your request and personal information. To protect your privacy, it is recommended that you submit your request anonymously.
If you pray for one of the requests on the wall, please click the praying hands icon located below the request.
Anonymous, November 9, 2020 - 9:25 pm
Please pray that God would deliver me from hopelessness and perfect that which concerns me. Pray also for the voice of the enemy to be silenced and for peace in me. Finally pray God would use me for His purposes.
Jonathan Grove, October 26, 2020 - 8:07 pm
Please continue to pray for me. I struggle a lot with being single and I am worried that I will never get married. Please pray that Jesus Christ will show me mercy and grace and allow me to get married to the wife who would be best and right for me. Proverbs 18:22 says that he who finds a wife finds a good thing and obtains favor from the Lord. Please pray that Jesus Christ will make this verse become a reality in my own life and that Jesus Christ will help me be a good husband. thank you. May God bless all of you and your church family.
Jonathan Grove, July 28, 2020 - 7:32 pm
Please pray for my unsaved family members and loved ones that they will come to know Jesus Christ as there Lord and Saviour. Thank you so much. May God bless all of you.
Lucero, July 23, 2020 - 1:29 pm
Please pray for my friend's family last name is Marin, they're in Cochabamba, Bolivia, two brothers from the same family died and another brother is in the hospital and the whole family has been affected by COVID-19 please the hospitals are full it's very sad
Anonymous, June 4, 2020 - 9:23 am
2 Chronicles 7:14, If my people, which are called by my name, shall humble themselves, and pray, and seek my face, and turn from their wicked ways; then will I hear from heaven, and will forgive their sin, and will heal their land.