LGBC Coronavirus Task Force Update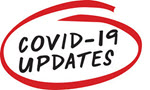 Current Status of Church Activities:
On Sunday mornings:

Sunday School will continue to meet at 9:45 am as usual.
The Morning Worship Service will start at 11:00 am as usual. The Morning Worship Service will also continue to be live streamed on YouTube as usual.

On Sunday evenings:

We will not have indoor, regular activities at the church on Sunday evenings until announced otherwise due to the need for deep cleaning in between services on Sundays.

On Wednesday evenings:

The Prayer Meeting/Bible Study will continue to meet in the fellowship hall at 6:00 pm as usual.
J.A.M. will meet at 5:30 pm in the J.A.M. room and continue to follow the social distancing guidelines (shown below). Masks are required at J.A.M. except while eating.
Details for LIVE Worship Services on Sundays at 11:00 am
Before we dive into the details, we want to make sure that you understand that your decision to participate, or not to participate, will be respected! Just because you can do something, doesn't mean you have to do something! More than anything, we want you to make the decision that is best for you, your family and your loved ones.
In addition to saying that, we would also encourage those that are considered high risk, whether it be age, underlying health conditions, medications that suppress the immune system, or other reasons, to stay at home. Just know that we still love you and we will miss you, but we see no need in taking an unnecessary risk. For those of you that stay home … we will miss you!
We also want to take this opportunity to let you know that we will continue live streaming the service each Sunday. This is easily accessed from the MEDIA menu on this website.
Now, let's dig into the details …
First and foremost we are thankful to have the opportunity to gather and worship. However, it will be much different than what we are used to.
We have a few things we MUST consider at this point for gatherings here at church:
Social Distancing – It is absolutely imperative for everyone to practice maintaining 6 feet of distance between people not in your family unit. Smiles instead of handshakes. Air hugs instead of body hugs. All of our members and guests need to feel safe here. That's the only way to have everyone to feel comfortable. Please respect this request!
Masks are optional, but recommended.
Children – Kids cannot be expected to keep social distancing rules except when they are with their family.

Therefore, there will be no Sunday morning children activities (nursery, children's church, and Sunday School) separate from parents/guardians. We will wait until we feel we can have these Sunday morning activities safely and in accordance with guidelines of our health officials.
Children must stay with their family unit at all times.

We have placed Tithe and Offering drop boxes in the vestibule and on the table outside the church office
You can continue to mail your offerings to the church or give through our online giving option, which you can access through the GIVING menu on this website.
Now, here is what you can expect Sunday mornings for worship services:
We will only have two entrances (the one near the drive-under and the one at the top of the ramp outside the church office)
Greeters will greet you outside and someone will open the door for you.
Ushers will then seat you. Please do not expect to get "your seat."

Ushers will seat everyone based on the order you come in from front to back and skipping every other pew and six feet apart between individuals/family units.
PLEASE NOTE: We will be having one service at 11:00 am – For this to work and accommodate everyone, we will be using both the sanctuary and fellowship hall (the service will be transmitted live on the screen downstairs in the fellowship hall) – We so appreciate those who will be willing to worship with others in the fellowship hall

We ask that family units please sit together so as to make more seating available
After the service, ushers will dismiss row by row.
Here are some additional points of interest:
Hand sanitizer will be readily available near the entrances.
No private events can be scheduled until further notice within our facilities.