Is God's voice the loudest voice in your life?
Our Wednesday morning Men's Group is working through the book, "Whisper" by Mark Batterson. In the prologue of this book, he asks that question. I've been thinking a lot about that since. The world has grown incredibly loud, competing for our attention. The voices of social media, the news, politics, friends, families, church, and our jobs are just a few that seem to be the loudest voices in our lives. Some of those voices have a positive effect on us; many do not. The more we feed ourselves with the voices of this world, the more silent God's voice becomes in our lives. The more silent God's voice becomes, the greater the confusion, frustration, and lack of peace and joy we will have in our lives.
God possesses an outside voice He's not afraid to use. However, when God really wants us to hear Him – because what He needs to say is important – He speaks in a still small voice. Mark Batterson writes, "We lean toward a whisper, and that's what God wants. The goal of hearing the heavenly Father's voice isn't just hearing His voice, it's intimacy with Him. That's why He speaks in a whisper. He wants to be as close to us as divinely possible! He loves us, likes us, that much."
There's a reason we're told in Scripture to "Be still and know that I am God …" (Ps. 46:10). Jesus knew what He was doing when He would often withdraw to desolate places to pray. Sometimes the best thing we can do is find some silence and stillness. We have to intentionally tune out the world and take the time to pray and get in God's Word. As we get ready to start a new year, let's choose to allow God's voice to be the loudest voice that we hear. When we hear and obey His voice, it will change the way we think, the way we feel, the way we live, and the way we see people around us. That's how we can become more like Christ. Isn't that the greatest resolution we could ever make? Carolyn and I want to wish you and your family a Happy New Year! Have a great week and let your light shine for Jesus this week.
Pastor Rick
Message From Andy (Student Minister)

"Fear not, daughter of Zion;
Behold, your King is coming,
Sitting on a donkey's colt."
John 12:15
Picture it … Jerusalem, 33 A.D. You're walking the streets of the city, noticing how much more crowded the streets are with Passover approaching. All of a sudden, you hear a commotion. People start moving to see what's happening. You hear shouts of "HOSANNA!" and "BLESSED IS HE WHO COMES IN THE NAME OF THE LORD!" and "THE KING OF ISRAEL!". And there He is … riding on a donkey's colt … palm leaves waving all around Him … KING JESUS.
That's how the greatest week in history began … how awesome would it have been to be there and witness it firsthand?
It is important for us to remember as we celebrate Holy Week and Easter that JESUS is our KING. Let us praise Him recognizing His sovereignty and His majesty!
He was our KING when He was born and laid in a manger.
He was our KING when He taught His disciples.
He was our KING when He performed miracles.
He was our KING when He triumphantly entered Jerusalem.
He was our KING when He performed The Last Supper.
He was our KING when He was arrested, tried, and ridiculed.
He was our KING when He was nailed to the cross.
He was our KING when He died on that cross.
He was our KING when He rose from the grave.
He was our KING when He ascended to Heaven.
And He is our KING Who is coming again!
Andy
Message From Kevin (Worship Leader)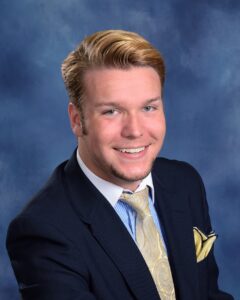 Lamentations 3:22-23 "Through the Lord's mercies we are not consumed, because His compassions fail not. They are new every morning; Great is Your faithfulness." Aren't you glad that no matter what circumstances you face in life, God is always faithful. His mercies are never ending. The song "Great is Thy Faithfulness" is a great reminder of this. The words by Thomas Chisholm call us to think of the great verse in Lamentations saying that every morning we wake up we should be reminded that God's mercies and compassions are new and fresh. My favorite line in this great hymn is "strength for today and bright hope for tomorrow," because so often we are already thinking ahead to the next day or week maybe worrying about something coming up. But we must be reminded that God will give us strength for every day as we need it. We also must continue to have hope for the days and years to come because, as Pastor Rick often says, "the best is yet to come."
Blessings in Song,
K

Recently we were sitting in the doctor's waiting room. The man sitting across from me was also in a wheelchair. I notice the shoes he was wearing looked really comfortable. I told him I liked his shoes and how comfortable they looked. He assured me they were very comfortable. I went on to ask where he had bought them. He told me his wife had ordered them from somewhere. During our conversation he had learned my shoe size. A few minutes passed and the man bent over to remove his shoes. He said, "I'm giving you this pair because my wife ordered me three pairs of them and I want you to have these!" While I was trying to persuade him "I can't take your shoes but I so thank you" the nurse called my name ……… I will never forget that man …… willing I suppose to go barefoot the rest of the day so I could have his comfortable shoes. Margaret was petrified on how I was going to get myself out of that one!!
I heard a friend tell about one time on a mission trip Bro. Coates gave a man his shirt off his back. This kind of giving whether shoes or a shirt speaks loudly about the love of Jesus.
Bro. James Meade
Message From Franklin Graham

We Cannot Remain Silent!
The Equality Act is a dangerous threat to our nation.
I am writing to you about a very dangerous piece of legislation — the Equality Act. The administration is wanting to pass this act soon. I cannot say this more emphatically — for people, for businesses, and for ministries of faith, the Equality Act is a threat to life as we know it in our nation today. It's a real game-changer.
The House has already passed this legislation one time previously, so it will likely pass in the House again before moving on to the Senate. We need you to contact your congress member and U.S. senators and ask them to vote NO. I also encourage you to let the White House know about your strong opposition to this bill. The progressive Left is zealous about this issue and will pull out all the stops to try to make it the law of the land.
The Equality Act designates schools, churches, and healthcare organizations as "public accommodations." With this, schools, churches, and hospitals could be forced to accept the government's beliefs and mandates about sexual orientation and gender identity. That would be highly intrusive and incredibly far-reaching. It will threaten everyday speech where people can be fined or lose their jobs for using the wrong name or pronouns.
The Equality Act will use the force of law across all 50 states to strip Christian and other religious ministries of their right to hire people of shared faith to pursue a shared mission. Can you imagine a Christian organization being forced to hire people hostile to its deeply held beliefs who have no passion for its beliefs, teachings, and mission? That doesn't work.
These are just a few examples. Friends, this is a pivotal time for our nation. The impact of this legislation is immense. We must not remain silent and accept what we know is wrong.
People of faith need to PRAY. Churches need to recognize the significance of this and pray corporately, asking for God's intervention and mercy to extend the religious freedoms we have been blessed with for so long.
We also must get to work now, in these fleeting days before the Equality Act comes up for a vote again. As individuals, churches, and organizations, we need to let our representatives in the U.S. House and Senate know how important this is to us, and that we are asking them to vote an emphatic NO to the Equality Act.
Link to contact our representatives: https://www.house.gov/representatives/find-your-representative
Sincerely,
Franklin Graham