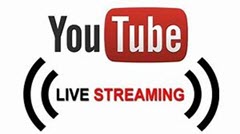 SERVICES ON YOUTUBE WILL CONTINUE ON SUNDAY MORNINGS
Now that we have returned to worship at church, please understand that your decision to participate, or not to participate in returning to worship in the sanctuary, will be respected! Just because you can do something, doesn't mean you have to do something! More than anything, we want you to make the decision that is best for you, your family and your loved ones.
In addition to saying that, we would also encourage those that are considered high risk, whether it be age, underlying health conditions, medications that suppress the immune system, or other reasons, to stay at home. Just know that we still love you and we will miss you, but we see no need in taking an unnecessary risk. For those of you that stay home… we will miss you! We also want to take this opportunity to let you know that we will continue livestreaming the service each Sunday. This is easily accessed by clicking the button below. Our YouTube channel will open in a new browser window. You can select the "current" livestreaming service or you may choose to watch a service from the past.
This provides the ability to view a church service remotely should you be unable to attend due to travel, sickness, or other concerns such as the current situation like abstaining from gatherings due to health concerns.
If you "subscribe" to the channel you should receive email notifications when we set-up an event prior to streaming one of our services.
Please realize this is a commercially available application which may have internet advertisements which are not disseminated nor endorsed by Lynn Garden Baptist and may be based on previous browser history.
Please contact Michael Strickler If you have questions, suggestions to improve this service, or need further assistance.