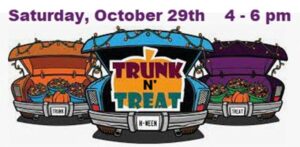 Trunk n' Treat is our annual community outreach event at Halloween where we park cars in the church parking lot and give out candy from the trunks. The date and time of the event is Saturday, October 29 from 4 – 6 pm. Our members will park cars along the upper end of our parking lot. Our parking lot will be marked with Entrance and Exit signs. The parking lot will be closed until set-up is completed at approximately 4 pm.
The entrance to the Trunk N' Treat area will also be marked with an Entrance sign near the basketball goal. The Trick N' Treaters will enter the area and walk towards the church to get the candy. At the last stop along the way, a bag of popcorn will be available.
In case of rain, the event will be held in our education building.
Please keep in mind that small children will be walking in the parking lot and use extreme caution when parking your car and when leaving.
"Thank you" to everyone that has already signed up to park a car and give out candy. Please plan to park your car no later than 3 pm on Saturday. We cannot put up the caution tape to mark off the parking lot until your car is parked. If you need to park near the church-end of the line, that is not a problem. Otherwise, we will start parking the cars near the basketball goal end. Someone will be available to help with parking to allow about 5 feet between cars. You are encouraged to decorate your car and/or yourself. If you have not signed up yet but want to participate, we will make a place for your car. If you are volunteering but not parking a car, please consider parking in the field behind the church.
There is a new sign-up sheet posted outside the church office with columns added for "Parking Lot Safety Patrol" and "Setup/Takedown". Setup will begin at approximately 2 pm.
We always need candy for the event and all donations will be appreciated. There is a container behind the sanctuary in the hallway for you to place bags of candy.