I love fall!! I love the beautiful colors, the cooler temperatures, the fall festivals, pumpkin everything, and of course, the football games. I actually love all of the seasons and feel so blessed to live in a part of the country where there are four very distinct seasons. The changing of the seasons reminds me so much of life. It is interesting that this is the word God chose to use to describe all of life. Spiritual seasons come into our lives just like the earthly seasons God brings to the earth each year. Ecclesiastes 3:1 reminds us, "To everything there is a season, and a time to every purpose under the heaven."
More than 65 verses in Scripture refer to seasons. Seasons are God's measurement of the stages of life. Our God created these different seasons of life so we would learn to rely on Him. God is faithful, and in these seasons, He is molding us into who we are meant to be. He is the Creator of all things good. He allows everything to work together to achieve His master plan. While these seasons of life come and go, it's so important that we focus on God, who remains unchanged and unchanging. Malachi 3:6 reminds us, "For I am the Lord, I change not ……." The only true constant in life is God. He has beautifully orchestrated every part of our lives down to the minute. While we may never understand why God would allow things to happen as they do, He knows what He is doing. God is in control and has set a time for everything in accordance with His purpose for our lives. It is all according to His divine plan. Everything He does is for our good and His glory.
During seasons of change, it is our job to listen to God and trust in His timing. It is our call to remain faithful even when we want to give up. There's a lot of unwelcome change in our world. We're painfully aware our kids and grandkids are growing up in a world far different from the one we knew as children. But amid all the changes, one thing, one person, never changes — our eternal God. True beauty is found when we live in the present. The past is gone and we're not promised tomorrow. All we have is now. Be present and intentional with your life. There is beauty in every season. As Psalm 118:24 says, "This is the day which the LORD hath made; we will rejoice and be glad in it."
I hope you and your family are planning to join us in church this coming Sunday. Have a great week and let your light shine for Jesus!
Message From Andy (Student Minister)

"My sheep hear My voice, and I know them, and they follow Me. And I give them eternal life, and they shall never perish; neither shall anyone snatch them out of My hand."
John 10:27-28
I received one of the best birthday presents of my life nine years ago on October 1st when we began the J.A.M. Ministry here at Lynn Garden Baptist!
God has truly blessed this ministry over the last nine years, and J.A.M. has truly been a blessing to me. Seeing my Kennedy students come to church is a tremendous blessing in that it allows me to have conversations that I can't have within the school walls and to pray over them how I can't at school. I never focus on numbers … God always brings who He wants into our doors, but I want to give Him praise right now as we've recently had around 35 elementary, middle, and high school students attend J.A.M. each Wednesday evening (and a few college students as well)!
Church Family, thank you for supporting – and continuing to support – this area of our Student Ministry here at Lynn Garden Baptist. I'm especially grateful to those who give of their time on Wednesday evenings to serve with J.A.M., whether it be cooking and serving the meal, leading Bible Study, or serving as a second adult with one of our groups. Please let me know if you'd like to plug in to our J.A.M. ministry and serve with us on Wednesday evenings as we continue to GROW GOD'S GARDEN TOGETHER!
Andy
Message From Kevin (Worship Leader)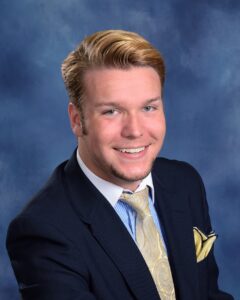 Most that know me, know that summer is my favorite season. I've always loved the longer days, the warmer weather and of course the beauty in everything blooming around me. In Matthew 12:27 – 28 Jesus says "Consider the lilies, how they grow: they neither toil nor spin; and yet I say to you, even Solomon in all his glory was not arrayed like one of these. If then God so clothes the grass, which today is in the field and tomorrow is thrown into the oven, how much more will He clothe you, O you of little faith?" Sometimes we can get so overwhelmed with everything going on in our lives and think "how can I go on" or "am I going to be able to make it?" But these verses remind us that with God through Christ Jesus we WILL be able to do what lies ahead of us. He will help us through and guide our path towards His will that He has set before us. "We have a heavenly Father above, with eyes full of mercy and a heart full of love. He really cares when your head is bowed low. Consider the lilies and then you will know."
Blessings in song,
Kevin

Recently we were sitting in the doctor's waiting room. The man sitting across from me was also in a wheelchair. I notice the shoes he was wearing looked really comfortable. I told him I liked his shoes and how comfortable they looked. He assured me they were very comfortable. I went on to ask where he had bought them. He told me his wife had ordered them from somewhere. During our conversation he had learned my shoe size. A few minutes passed and the man bent over to remove his shoes. He said, "I'm giving you this pair because my wife ordered me three pairs of them and I want you to have these!" While I was trying to persuade him "I can't take your shoes but I so thank you" the nurse called my name ……… I will never forget that man …… willing I suppose to go barefoot the rest of the day so I could have his comfortable shoes. Margaret was petrified on how I was going to get myself out of that one!!
I heard a friend tell about one time on a mission trip Bro. Coates gave a man his shirt off his back. This kind of giving whether shoes or a shirt speaks loudly about the love of Jesus.
Bro. James Meade
Message From Franklin Graham

We Cannot Remain Silent!
The Equality Act is a dangerous threat to our nation.
I am writing to you about a very dangerous piece of legislation — the Equality Act. The administration is wanting to pass this act soon. I cannot say this more emphatically — for people, for businesses, and for ministries of faith, the Equality Act is a threat to life as we know it in our nation today. It's a real game-changer.
The House has already passed this legislation one time previously, so it will likely pass in the House again before moving on to the Senate. We need you to contact your congress member and U.S. senators and ask them to vote NO. I also encourage you to let the White House know about your strong opposition to this bill. The progressive Left is zealous about this issue and will pull out all the stops to try to make it the law of the land.
The Equality Act designates schools, churches, and healthcare organizations as "public accommodations." With this, schools, churches, and hospitals could be forced to accept the government's beliefs and mandates about sexual orientation and gender identity. That would be highly intrusive and incredibly far-reaching. It will threaten everyday speech where people can be fined or lose their jobs for using the wrong name or pronouns.
The Equality Act will use the force of law across all 50 states to strip Christian and other religious ministries of their right to hire people of shared faith to pursue a shared mission. Can you imagine a Christian organization being forced to hire people hostile to its deeply held beliefs who have no passion for its beliefs, teachings, and mission? That doesn't work.
These are just a few examples. Friends, this is a pivotal time for our nation. The impact of this legislation is immense. We must not remain silent and accept what we know is wrong.
People of faith need to PRAY. Churches need to recognize the significance of this and pray corporately, asking for God's intervention and mercy to extend the religious freedoms we have been blessed with for so long.
We also must get to work now, in these fleeting days before the Equality Act comes up for a vote again. As individuals, churches, and organizations, we need to let our representatives in the U.S. House and Senate know how important this is to us, and that we are asking them to vote an emphatic NO to the Equality Act.
Link to contact our representatives: https://www.house.gov/representatives/find-your-representative
Sincerely,
Franklin Graham