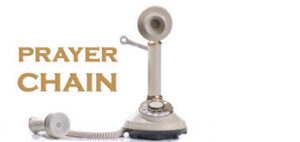 The LGBC prayer chain is our electronic phone system that provides a 24/7 prayer hotline for those who have urgent prayer requests.
To be added on the prayer chain, call the church office and request that your telephone number be added. If you are currently on the prayer chain and have missed a call, you can dial 877-698-3261, then dial 1 for the last prayer chain request of that day.
If you have a urgent prayer request that you would like placed on the prayer chain, please contact Shirley Hopkins.
The prayer chain is also used to help the church notify everyone of severe weather, cancellation of a service or important church news.
Please feel free to call the church office with any questions or concerns about the prayer chain.

Who: Everyone is welcome and encouraged to attend
What: Prayer Meeting and Bible Study* **
When: Wednesday Evenings at 6:00 pm
Where: Fellowship Hall (basement) of Sanctuary Building
* On the fourth Wednesday of each month, a brief business meeting is also included.
** The current Bible study focuses on the book of Romans.
Introduction to Romans
Rome was the most important city in the world at the time of Paul.
It had a vast army that controlled all the countries that surrounded the Mediterranean Sea.
The rulers of Rome were extremely powerful and wealthy.
Paul wrote most of his letters to churches that he himself had established, but the church at Rome was different.
There were already many Christians in Rome long before Paul arrived there.
How the church in Rome was started is unclear, but many scholars believe the church was started by Jews who had come to faith during Pentecost (Acts 2).
The Roman church had a large Jewish element, but was also filled with Gentile converts from paganism, both free as well as slaves.
Paul dictated his letter to Tertius (Romans 16:22), and wrote it during his stay in Corinth, probably about 57 A.D., during his third missionary journey.
The first 11 chapters of the book center on the Gospel message and how salvation is available to all regardless of their race, sex, or heritage, through faith in Jesus Christ.
Chapters 12 – 16 focus on how a Christian is supposed to live as a child of God in a fallen world. Paul gives practical instructions on how a Christian is to live in submission to Christ and live out our faith each day.
Come join us downstairs in the fellowship hall at 6:00 pm each Wednesday.