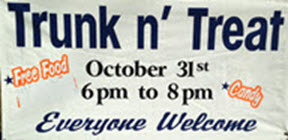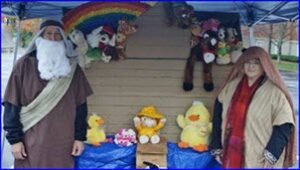 Many thanks to everyone that braved the rain and cold to make our 2019 Trunk n' Treat a huge success.
Please mark your calendar for Saturday, October 31, 2020 to attend the LGBC Trunk n' Treat from 6:00 – 8:00 pm. Trunk n' Treat is our annual community outreach event at Halloween where we park cars in the church parking lot and give out candy from the trunks. The adults enjoy it just as much as the kids and it is a great opportunity to dress up in your favorite costume. It is always a fun family event with free popcorn, hot cocoa and kool-aid. Please keep your pet in your automobile.
Trunk n' Treat at LGBC started several years ago to help us meet people in our community. The event grows every year and we are thrilled. We had an awesome turnout last year and gave out candy in the Education Building because of the weather. Hopefully, the weather will cooperate this year, but rest assured, we plan to have the event regardless of the weather.
Here is a short video from one of our Trunk N' Treat events.
As shown in the following video, there is always a need for candy if you would like to donate some for the event.